I have something to say about make up. It has come a long long way since the days of buying 5,000L in skins to ensure I got the most versatile looks. Tattoo Layers are our friends...our dear and close personal friends. Now, I can find a clean skin I love and with all the freebies of make-up and gifts on the grid, well it costs me next to nothing to go from this....to this....and I must thank you Linden Labs, for making it possible to layer and layer and layer again.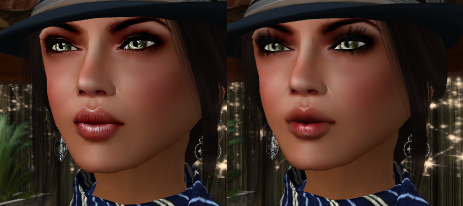 -tears up-
....Okay also...I stumbled over this little store yesterday doing the With Love (Again) Holiday Hunt. Mind you, I have stumbled over a lot of little stores, 100 to be exact. It took me four days, but its done! Anyway, back to Zenith. L.O.V.E that place. I got the adorable hunt item of course, but then this amazing pants and two pairs of awesome boots! I would blog them all right this second, but I think I need to save it all for later. Right now, it's just these pants. I think I have already said something about my preference for the whole vintage style...and these pants are IT for me. I love the highwaisted pants in SL. When I saw these well, I just had to have. I paired it with an adorable top I got for next to nothing at CoCo..make your way over there, everything is on sale. The tie there, it comes with the top to put a sophisticated relaxed feel to the fancy puffy sleeved blouse.
Fri.day's Joanne is one of my favorite hairs, cause the hat comes with. I don't get to wear it enough, but it has a very flexible color change script in it so the band and hat itself gets all sortsa changed around.
Finally, the accessories. Now, the earrings come with Addictions pearl set and are definitely cute, but what I am really loving...the watch. COME ON! Look at that thing?!
It's like understated awesome right there, the thing actually sets and tells the dang time! It's not just a piece on mah wrist! So thank you Dona Flora for this beautiful Samara watch, just thank you. I think I am going to wear this for the next week...only I have to change clothes three times a day anymore to get in all the outfits I do have. Everyone gets a chance here!

Skin ~ LAQ - Susan in Mocha
Shape ~ KRYSTA - By Sibele Ingmann
Hair ~ fri.day - Joanna - Moody Brown
Eyes ~ Exodi - Reflective Green Eyes
Nails ~ [PM] - Sculpted Nails V2
Lipstick ~ [PF] Elly <cocoa> Doll Gloss (Blood)
Eye Shadow ~ Miamai - LesMakeups Smokey
Eye Lashes ~ Garage - Eyelash Layers 07
Shirt ~ CoCo - Puff Sleves Top in Blue (Tie Included)
Pants ~ Zenith - Deep Blue Push up Jeans
Earrings ~ Addicion - Radiance Pearl Earrings
Watch ~ Dona Flora - Samara Watch
Shoes ~ Armidi Gisaci - Oxford Leather Ankle Boots in Harvest