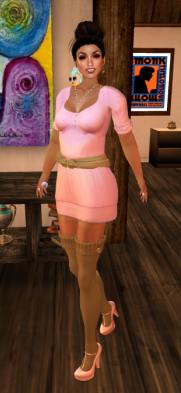 It had been...more than a year. A minut smile slipped over her pink lips, realizing that the length of time itself was like a banner of attention. Pressing her lips togther, she rolled them a minute before looking away from the landscape. She was shopping again, each purchase made with the same insane quetion peeling through her mind. Would he approve?
It was maddening, he was maddening, another tell tale word that made her smile fill her face. Lifting her finger, it stroked the mane of her one of her newest little pets. She should have a farm, if she had enough space. She was widdling down her friend and landlord, waiting and glaring out her window at her damnable weirdo neighbors. One was the lord of all slaves and the other with a penchant for vulgarities and a son that was highly allergic to eggnog, don't ask her why she knew that.
On her shoulder, the little creature she'd named Sibele, was hopping around, begging for her attention. Stroking it absently she realized she had lost her train of thought.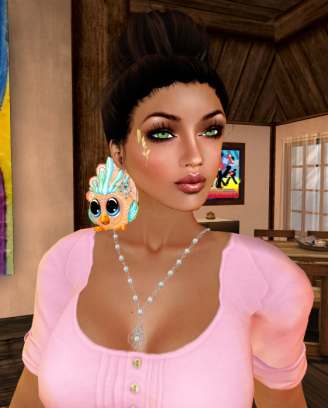 It had been...more than a year. A hundre...no a thousand conversations and soft admissions, quiet yearnings. It would be easier maybe if she thought they were only on her end. It was maddening, knowing you wanted and they wanted, but well there you had it. A situation.
There was nothing to be done for it though, it was what it was. She'd said that a lot too. "Meh." Offered in response to her own thoughts, making the puff on her shoulder meep and nudge her cheek. Giving a light grin, she shook her mood off and started out of the shop. "Come on, lets see whats on this list we can dress up in.." Together, the pair left the garden shop in search of something to make her feel beautiful, soft, and loved.
Eyes ~ Mayfly - Deep Sky Eyes (Forest Green)
Hair ~ Vive Nine - Poland Highlander Bun - Brunette
Skin ~ LAQ - Tasha2 Nougat
Shape ~ Sibele Ingmann - Krysta's Shape
Ring ~ SyDS Ring - Serenite2 (Rain)
Earrings/Necklace ~ Addiction - Radiance Pearls
Eyelashes ~ Garage - Tatto Layer No. 7
Nails ~ PM - Sculpted Nails Natural
Dress ~ Decoy - Sophie Pink Dress
Socks ~ GField - Button Socks in Camel
Heels ~ GField - Strap Shoes Metalic Pink
Face Art ~ JJ's Face Art - Rose & Butterfly
Special Guest ~ Ozimals Puffling - Sibele